Why do a yoga retreat on a boat in Mexico?
In Experiencias Cancun, we like to take care of ourselves physically and spiritually. That's why we thought about a different experience to achieve mental calm in a yoga retreat on a boat. Rest in the depth of the ocean, beyond the waves. 
More and more people are looking for physical well-being through exercise, healthy eating, and avoiding alcohol and drugs. So, a new healthy trend that seeks to have fun without alcohol or excesses is increasing. 
However, physical well-being is not possible without mental well-being. That is why a relaxed mind, free of worries and negative thoughts, is the key to better physical health. Several studies show that our immune system improves, lowers blood pressure and anxiety by feeling more relaxed and calm.
How do you achieve mental wellness?
There are multiple methods, such as meditation, yoga, ecstatic dance, different healing therapies, wellness retreats, and so on. You have to find the one that fits you.
Thus, the Caribbean Sea in Mexico offers a wonderful chance to disconnect from stress, learn to let go, and enjoy the present moment to achieve this calm mind. We all know the healing power of the ocean; there is nothing more refreshing than a getaway to the beach for a few days to find out.
In fact, in Buddhism, the disturbed mind is compared to the ocean and its waves. Learning to anchor in the ocean's depth, beyond the waves, is the goal. It is about resting in your own core, beyond the thoughts that come and go. An easy way to do this is to be present and grateful as you swim or float in the vastness of the sea.
Therefore, a yoga retreat onboard is an experience unlike any other. Away from the land, your best option is to relax, flow with the waves and understand the ocean's vastness. Mindfulness, yoga, and wellness retreats are perfect for connecting with your senses and feeling truly free.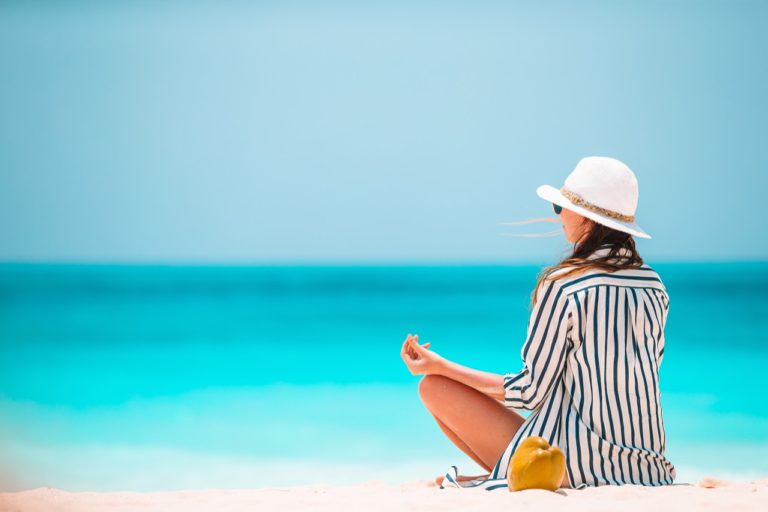 What can you do on a yoga retreat on a catamaran in Cancun?
This retreat is a journey into the deepest part of your being. You can start with a refreshing and healthy drink from our Sober Bar while you sail with the breeze to a blue water spot between Cancun and Isla Mujeres. Then, the boat will anchor for meditation practice and swim in the sea. Upon arrival at Isla Mujeres, you will disembark at one of the quieter beach clubs to enjoy a delicious meal away from the hustle and bustle of downtown. You can also choose to explore the reefs and get to know about the marine life. On the way back to Cancun, you will enjoy the view of the most stunning sunset.
A different experience that will free your mind to achieve the deepest inner calmness.
Reserve a Private Catamaran for a Wellness Event