4 Amazing Coral Reef Spots in Cancun
A party full of colors, structure and marine flora and fauna diversity is what we get from the most amazing natural creations of the ocean: the coral reefs in Cancun & Riviera Maya. 
A coral reef is an underwater structure formed by the skeletons of colonial marine invertebrates, also called corals. Here, not only will you see vibrant and colorful fish and other sea animals, but you will also find beautiful marine plants. They may look and feel like they are just rocks, actually, coral is a very fragile animal who provides nourishment and oxygen for marine wildlife. 
The Mexican Caribbean has a great variety of coral reefs in Cancun and throughout the Riviera Maya. The Mesoamerican Reef System is the oldest on our planet, and the second longest in the world. Therefore, it is a spectacle you can not miss. This National Park has more than 230 algae types, 61 sponges, 32 species of soft corals, 33 species of hard corals, 3 species of black corals, 125 of mollusks, 12 different crustaceans, as the Caribbean spiny lobster, and 170 different fish. Among the reptiles, the Atlantic green sea turtle, and the white sea turtle predominate, both in danger of extinction.
Keep reading to discover 4 amazing coral reef spots in Cancun.
This spot features pristine clear waters and expansive coral reefs in Cancun. It is home to more than 230 species of algae and seagrass, abundance of colorful fish, and outstanding marine species like turtles and manatees. It is surrounded by jungle, mangroves and different species of coastal vegetation. It is an excellent area for diving and snorkeling in Cancun for both beginners and experienced divers. In addition, you can explore several places, the barrier 1 and 2, the Bajito and as a plus you can find a sculpture of the Underwater Museum of Art. 
This beautiful spot is a protected reef on the southern end of Isla Mujeres, 14 kilometers away from Cancun. It is one kilometer long and approximately from 10 to 12 meters deep. Here you will find the famous underwater sculptures, and it is excellent if you want to go diving or snorkeling in Cancun, especially for beginners. In its coral and sculptural formations you will be able to appreciate uncountable colored fish, seashells, rays and a great diversity of underwater life. Known as Manchones and the Underwater Museum of Cancun. You can scuba diving, kayaking, sail in a private boat, observe the fauna and flora, witness the migration of birds and much more.
Explore this fabulous protected natural area with unbelievable blue crystal-clear waters. Here you can admire abundant massive reefs, more than one meter high. They are characterized by their oval or elongated shape, and a greater width and height in the center than at the ends. In these reef ends, we find isolated coral heads, as in Chitales. In this natural area we also find the reef known as Banderas, a very popular place among expert divers. It is located at 12 meters deep. you will see a variety of marine species, such as moray eels, large crabs, lobsters, angelfish, schools of barracudas, elkhorn coral, among others. We guarantee a fascinating and fun-filled underwater adventure.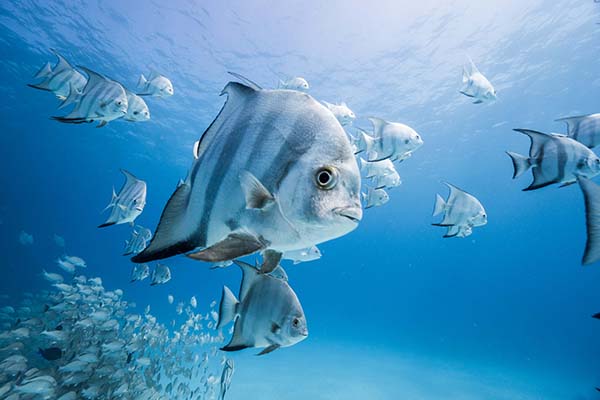 Located in the north of Cancun, in front of Puerto Juarez, El Meco is one of the most popular reefs for snorkeling. This is because the reef in Cancun has only 8-12 feet deep, warm water, and few ocean currents. With gorgonian plain corals, for presenting a low relief, less than a meter, with abundant playful fish, used to swim along with tourists. It is located in front of the Mayan archaeological site of the same name. Definitely, one of the best places to enjoy snorkeling in Cancun itself. 
Thus, if you are planning to go diving or snorkeling in Isla Mujeres and Cancun, consult with your captain to go to these amazing coral reef sites and leave us your comments.