Proposing on a Yacht: An Unforgettable Way to Pop the Question
Have you ever thought of proposing on a boat? If you are in love and in a stable relationship, you probably have thought about getting engaged a few times, am I right? What about proposing on a yacht at sunset in Cancun, Mexico? If any of these sounds extremely romantic and exciting, keep on reading to find more about it. 
We know that when you are in love, the thought of you two exchanging vows, promising each other eternal love and start being Mr. and Mrs. "Right" is something every couple dreams about. But before becoming one, there's a lot to figure out: the flowers, the venue, the dress and tux, the guest list, and of course, the proposal! 
Finding the perfect way to pop the question is a BIG DEAL! Maybe you have been planning it for a while or dreaming about it since you were five. We know that everyone is different, so perhaps you like the idea of doing it privately or you rather do it surrounded by all your friends and family; in a big and fancy event or in a casual and fun atmosphere. There're so many options, so how to pick the right one?
Well, as always… we've got your back. Here is why you should start thinking about proposing on a yacht.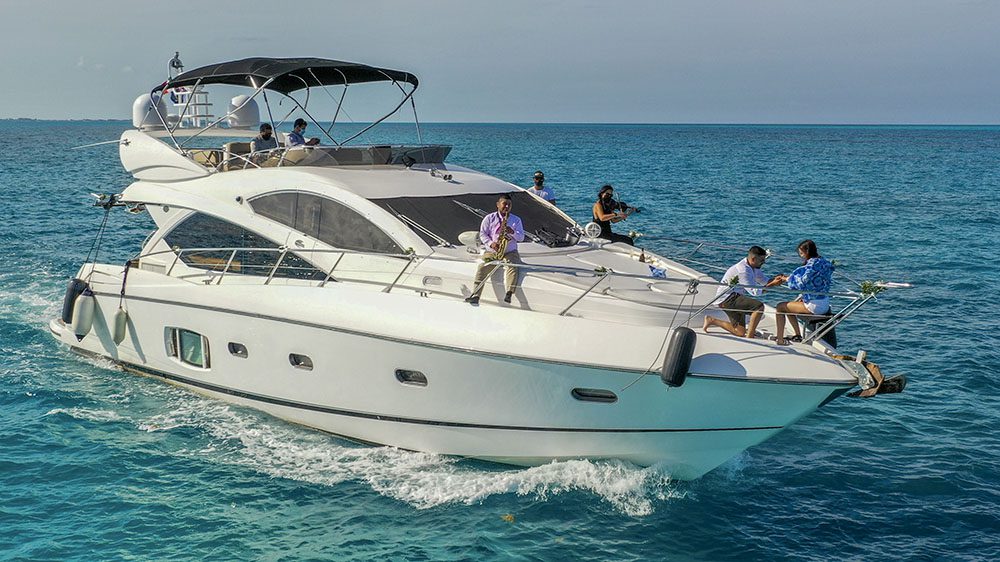 Imagine the Mexican Mayan Riviera with its unparalleled Caribbean Sea as the background, or even better, as the set! Proposing on a yacht will give you and your beloved one an amazing scenery all around you. 
When proposing on a yacht, sunset or sunrise, daylight or night time in the Caribbean will be just perfect. You just need to choose which one you think is more romantic for both of you.
This special event can be by yourselves, or with all your beloved ones. It's always up to you. Most couples choose an intimate and private atmosphere, but why not celebrate with your family or friends? Love is always a reason to celebrate, and if you are on vacation with your loved ones in Cancun, why not take the step and share love?
And after hearing: YES! what's next? Proposing on a boat can involve a romantic dinner during sunset, that will become a lovely evening under the stars. On the other hand, you can just enjoy the yacht ride with a glass of champagne and jump off the boat for swimming or snorkeling after that. You can make it as fancy as you want.
Get Creative in Your Yacht Proposal
We can satisfy any need for your yacht proposal. If you decide a private encounter, choose the playlist, live music with saxophonist, violinist, or even a Trio, decoration with flowers and balloons. The quiet ocean and relaxing waves make the difference. However, you can also propose on a large boat and celebrate an amazing event. We can bring a DJ, lights, Mariachi or a band, and play your favorite songs. 
As you can see, possibilities are endless when proposing on a yacht. It is extremely romantic, and quite adaptable to all tastes. Check many ideas here.
If you decide to propose on a boat, call us! We will make your dream proposal come true, and immortalize this moment with the best photography service!
Trust Experiencias Cancun, by having us in your team, this will be a day you will NEVER forget!